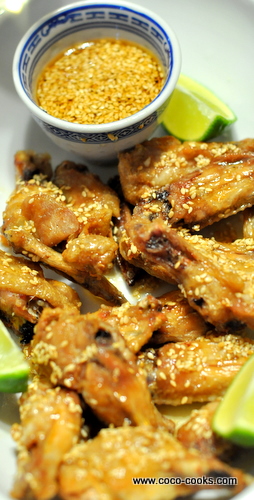 I remember when I first started this blog many moons ago, Certain Someone asked me as he munched on one of my less blog worthy meals, why don't I show recipes for wings. He liked the endless way I made wings. I thought wings were low brow and simplistic to be  featured here, as who wouldn't  know how to make wings? With blogging I find I make the assumption everyone who reads Coco Cooks is a natural  and willing cook. Some are and some aren't. If you look around some of the most successful popular blogs keep it simple and approachable for the masses. As it is often the  case it isn't about the food so much, but the hype and persona behind the blog. I'm not one of those blogs. Yes I have simple recipes, but I also have some complicated challenging ones. I like to push myself. My blog, like my kitchen, is my laboratory.I would like to think you come here  as a reader because you like my style overall in the kitchen and in life. I've been thinking a lot about the blogging world these past few weeks and have a lot of inward thoughts  both positive and at times negative, on the  multitude of players and ways that I won't discuss too much publicly. But every now and then it's good to reassess "
Why I'm here
" and why I put it the time and effort  and money to share my ideas via blogging . I will say to borrow the words of someone I know ,
"it's a splintered community"
. I see a  vibrant robust community that's reflective of life, and that's not  always fair, just , even, or sane. The good , bad, and ugly, and questionable.  Many rally to a  worthy cause or event  without hesitation and show  great support and love. Some just as worthy causes or life events or tragedies in the community are overlooked with barely a ripple.I guess I feel a  little guilty because some tragedies  I find out about too late  and feel helpless about,while others I see daily due to explosion of Social Media. But, I and others, can't ignore the huge the huge elephant in the room.Those in my circle may know who and what I refer to. To address the elephant may be interpreted as bitter or full of snark , but it's not my intention. I have seen some people shamed for saying what they feel because its goes against the popular current. I recognize we all approach and react to grief differently.  I'm compassionate and feel for all . But I am observant to all that's going on around me. It's all about perception.
I blog as a medium because I love it, pure and simple. The perks and opportunities  have been great and many doors have opened for me to meet great people and participate in some fun events. But I do it because cooking food and travel, more so than Blogging itself, is my passion and what drives and consumes me. It's funny. My new co workers approach me each day to ask me what I cooked the day before. They look at me in that  strange but appreciative interest that comes with someone  who's  ardent .They love and respect my passion for food as well as my honesty. It's nice to see a true honest passion  without questionable motivations these days amidst dissent, divisions and uncertainty.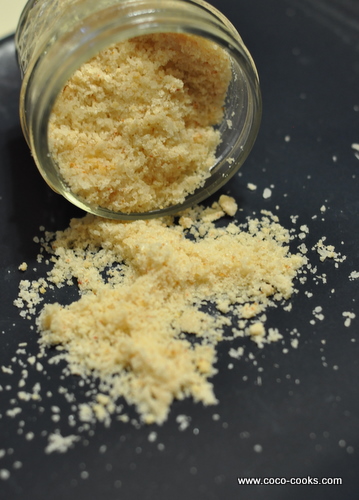 Last spring walking through the  Naschsmarkt in Vienna, I discovered a shop that's the inspiration for this dish. Kim's Kocht Shop and Studio. They had a line of exquisite flavored salts and I purchased a Lemongrass Chili Salt there packaged nicely in small Weck containers. Sadly I used my last drop of the fantastic  finishing salt. So with spice grinder in hand, I decide to  make my own with a few variations. So here are some tasty easy wings, with an exotic twist influenced by my interests and passions, food, culture and travel. Enjoy it. I know I did. But most important, do what you love, show your love, and stay true.
| | | |
| --- | --- | --- |
| Honey Sesame Wings with Lemongrass Chili Ginger Salt | | |
Author:
Total time:
1 hour 5 mins
Fried wings with flavored salt with a honey sesame sauce
Ingredients
1 stalk lemon grass
1/2 chunk of ginger peeled and sliced
2 dried Thai Chilies
Coarse Sea Salt or Kosher Salt
2 lbs chicken wings , cut
Oil suitable for frying ( pomace, vegetable,peanut, grape-seed, etc.)
4 tablespoons honey
2 tablespoons Dark Sesame Oil
1 teaspoon rice vinegar
2 tablespoons sesame seeds ( to be toasted)
1-2 cloves garlic minced
A few drops Fish Sauce
Lime , quartered for garnish
Instructions
Take a spice grinder and add about 1 -2 tablespoons of the sliced stalk of lemongrass. Add the peeled ginger , and dried chilies and pulse until minced.
Add enough salt to fill grinder( approx 1/2 cup or more). Pulse to blend.
Store in jars to use as a finishing salt.
In a small dry fry pan, toast the sesame seeds. Do not burn.
In a small bowl mix the honey, sesame oil, rice vinegar, and fish sauce. Add the toasted sesame seeds.
Put aside.
Wash and dry your wings. Cut into pieces at the joint.
Prepare your frying pan or deep fryer and fry the chicken ( plain) until golden and crispy at approx a steady temp of 350.
When done and golden take out and drain on paper towels.
Immediately sprinkle the Lemongrass Chili Ginger Salt onto the hot wings.
Drizzle with the honey sesame sauce and serve extra on the side for dipping.
Notes
Be careful with the salt when sprinkling, as the finished salt is finer and goes a longer way.
Related posts: