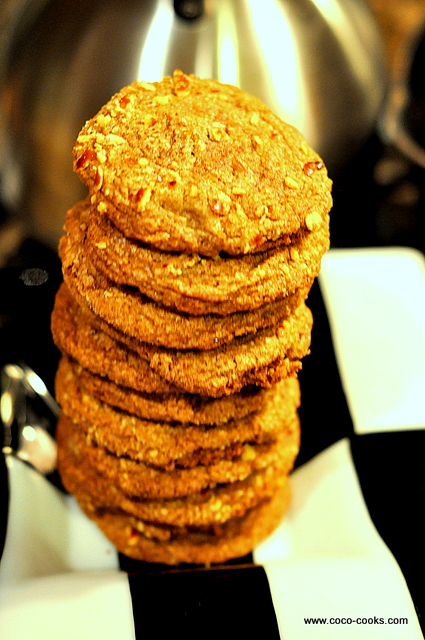 The vision of crushed pretzels  in some sort of sweet pastry raced through my mind as I sat in a seminar recently. As my colleagues jockeyed for attention and notice in those forced group games, I kept dreaming of pretzels. I had a big box of them sitting on my kitchen table. What to do? I then saw my
Green and Blacks Milk Chocolate Toffee
bar, and this cookie was born. I've seen other variations of a pretzel cookies on the internet, but ,mine is different as I incorporate the ground pretzels into the cookie dough, not just plunking some pretzel on top. The rich toffee and chocolate merge excellently with the salty, crunchy pretzel. When I think of toffee I think of England, and when I think of pretzels I think of Germany. So thus, I christened these cookies Victoria and Albert's, the greatest Anglo/ Deutsche pairing ever. Yes. I'm a nerd who watches too much British Drama.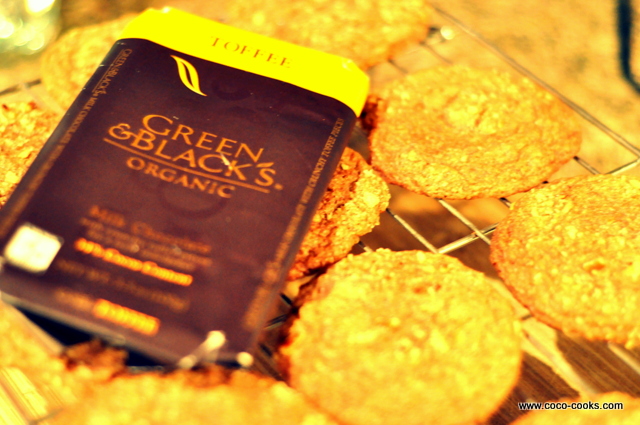 | | | |
| --- | --- | --- |
| Green and Blacks Toffee Milk Chocolate and Pretzel Cookies aka Victoria and Albert's | | |
Ingredients
1 1/2 cups of ground pretzel sticks ( reserve 1/4 cup for topping)
1 1/2 sticks of unsalted butter room temp
1 1/2 cups dark brown sugar
1 teaspoon vanilla extract
1 teaspoon ground cinnamon
2 eggs
1 cup flour
1 teaspoon baking soda
1 Green and Blacks Toffee Bar chopped
Instructions
Preheat oven to 350.
Line Cookie sheets with parchment paper.
In a blender grid the pretzel sticks. The texture should be medium coarse. Set aside.
In a bowl of stand mixture, cream the butter and brown sugar for 3 minutes with a paddle attachment.
Add the eggs, cinnamon and vanilla extract and continue to mix.
Scrape down mixture for sides to thoroughly blend.
Add the flour, 1 1/4 cups of pretzel crumbs and baking soda. Beat with paddle another 2 minutes, scraping down sides as necessary.
Add the chocolate and mix lightly in mixture.
Make rounded spoons of dough, no larger than a walnut . Carefully pick up up dough and dip top in the remaining 1/4 cup of ground pretzels.
Place on baking sheet. spaced apart. 12 to sheet.
Bake until cookie spreads,crisp around edges and golden, approx 8 min ( varies by oven). Do not overcook.
Related posts: